How to write a blog post for readers, search engines and social networks?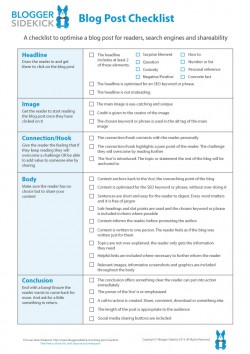 The Blog Post Checklist was created with the sole purpose of helping people just like you, write highly engaging blog content. This checklist will help you;
Get more readers to click on your blog posts
Get more readers to read the blog once they have clicked on it
Boost your credibility as a blogger
Give your reader the feeling that if they read the post they will overcome a challenge
Give your reader no choice but to share the content
Make sure your reader wants to come back for more
Enter your details to get your free Blog Post Checklist!