Ever wondered how to create a money-making blog marketing strategy?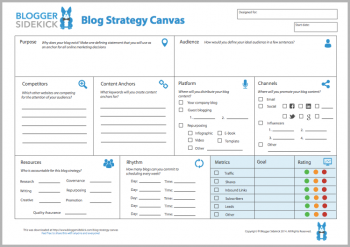 The Blog Strategy Canvas has been designed to help you grow your business with the power of blogging. This strategy will help you;
Determine WHY your blog exists
Define your ideal readers
Pinpoint the keyword groups you will create content anchors for
Decide where you will distribute your blog content
Decide how you will promote your blog content
Hold people accountable to your blog strategy
Commit to a consistent blog schedule
Track the metrics and goals that matter to your business
Choose the free content you will use to generate leads
Learn how to nurture someone from an email subscriber into a customer
Enter your details to get your free Blog Strategy Canvas!