Hey I'm Will Blunt,
I put together this page because I wanted to help you answer two very specific questions;
"Am I in the right place?"
"If I am, where should I start?"
If you are striving to grow your business online, and want to use blogging to do so, then you are in the right place.
You should continue reading if;
You want to attract more website traffic
You want to build an authority brand
You want to grow your email list
You want to nurture that email list into customers
It's as simple as that. If you are interested in achieving any of those four things, and don't want to break the bank doing it, I'm confident we have some content that you will find helpful. If not, then we're not for you. And that's cool, we aren't here to serve everyone.
Where is the best place to start?
This page will act as a guide for any new community members to easily navigate around the site.
What we stand for and who we are
We want to help you build an online audience that you can nurture into customers – without spending years and years figuring it all out yourself.
The problem is there is so much conflicting advice about blogging, and how you should use it to grow your business.
I'm not promising you a magic pill or the perfect way – but I am promising you an authentic re-telling of what I have learnt, and what I continue to learn about what works. The cool thing is, I have built business from scratch using these tactics and made a bunch of mistakes along the way – I hope this means you won't have to do the same.
I will share this journey the best I can and help you fast track the time it takes to figure it all out. Everything you read, download or engage with on this site – and any of our other content channels – is designed to fulfill this very specific purpose and is anchored around a set of core values that I live my life by.
If you want to learn more about me and what we stand for as a business, these are the pages for you.
Popular blog posts (and the best order to read them in)
I like to create epic content. So a selection of our blog posts are seriously lengthy – 6,000 words+.
Why? Because search engines love it, I love writing it, and for some reason I feel the need to include everything I can find on a topic!
I know you are busy, and I appreciate your spare time. So to help you get the information you need from each of these posts I include lots of visuals, sub-headings, line spacing and text formatting, so you can come back to it over and over again and quickly skim through what is most important to you.
In the interest of keeping everything simple, here are five of our most popular blog posts in the order I would recommend reading them;
Free resources
On top of creating lengthy blog posts, we offer an array of different PDF downloads that will help you build an online audience. This content is only available to our community members, those that part ways with an email address! My goal is to create a library of resources that is rivalled nowhere else online, all for free, all extremely helpful and all with that neat Blogger Sidekick design edge.
For now, here are our most popular resources all with thousands of downloads each.
How we make money
For us to discover what works online, build a business from scratch, and share those experiences with all of you, we actually need to make some money! I just have one guiding principle when it comes to this;
Don't sell anything unless it is helping others build an online audience they can nurture into customers.
So far, here is what we offer to help you do that;
Authority Blog Service – Join a short list of industry leading marketing companies who trust us to manage their content strategy and grow their authority.
Anchor Content Video Course – Anchor pieces of content form the architecture of your site. They are long, evergreen pieces of content that dominate a topic and command authority for your brand. Over time they guide your content strategy, build thought leadership and drive consistent traffic to your website. (Note: Registration for Anchor Content is currently closed)
Digital Marketing Training – Keynotes, events and in-house workshops; we can tailor a package to your budget and needs
Affiliate Commissions – We have established a select few affiliate relationships with companies we trust to deliver value. What that means is that some links that go to third party tools from the site are attributed to Blogger Sidekick. If you decide to purchase a product or service after clicking those links, we will get a small commission for referring you. The truth is, I only actively promote products that I use myself, and find extremely helpful. Most of which I don't get any commission for. So whenever I do get a benefit, I'll let you know.
I just wanted to finish by saying I am privileged to have you reading this page. My desire to help you succeed is deeply embedded in the way I live my life. If you succeed, then I succeed.
Tweet me, +1 me or email me whenever you want. I will do my absolute best to get back to you with a response. The chances are you are struggling with all the same things I am, and we can work through that together.
Speak soon,
Will Blunt
Founder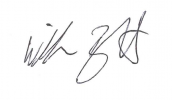 PS. The best way to get in touch with me via email is to first sign up for our email list, and then hit the reply button.