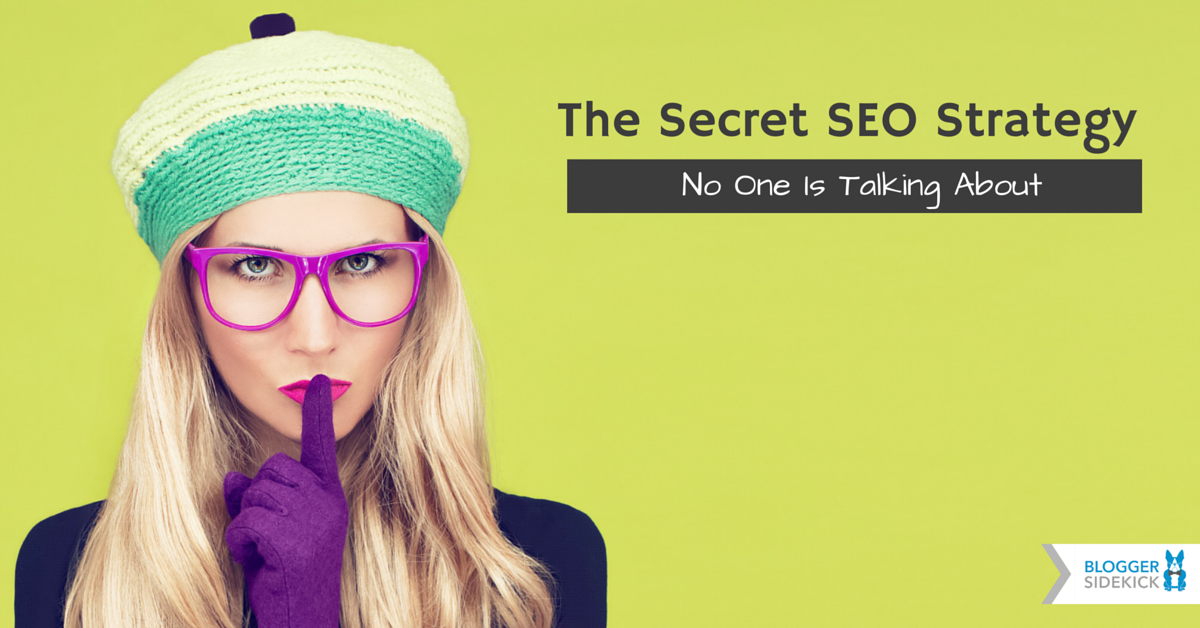 Google scares the crap out of me.
Well it used to at least.
They are always changing their algorithm and ranking our content on the back of a whole bunch of factors that no one REALLY understands.
But we don't have a choice. As bloggers we need to understand how search engines are going to deliver us traffic.
So we succumb to their demands.
Let me share a story…
Recently I went on a trip to Vietnam.
As a Sydney boy born and bred, this was a cultural immersion like no other.
There were motorcycles EVERYWHERE, thousands of them on every road.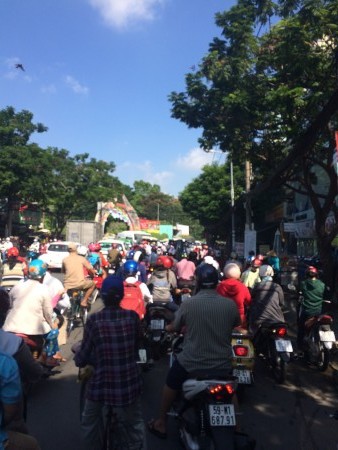 It seemed like there were no rules at all.
The bikes all go in different directions, blowing their horns at just about everyone, and completely ignoring any red lights or pedestrians crossing.
It felt chaotic.
But after being there for a few days, I realized that the chaos is actually pretty organized.
They are blowing their horns to communicate where they are, they are going at a pace that allows them to dodge any obstacles, and there is an unspoken acceptance of who has the right of way in every situation.
By the end of my trip, I was walking calmly across the road in front of thousands of motorbikes, cars, and trucks without a worry.
This metaphor is the best way I can explain my SEO journey.
At one point, it just felt like I was consuming a bunch of information from a thousand different sources and getting nowhere.
I would read blog after blog about SEO, trying to piece it all together – but still couldn't figure it out.
It was scary, overwhelming, and to be honest I had no idea what was going on.
But much like my trip to Vietnam, at some stage during this complex process, everything became a little clearer.
Instead of reading about SEO, I started observing what the experts were doing and taking action myself.
Copyblogger, Moz, Brian Dean, and Neil Patel… These are the sources I go to for SEO advice, so I figured; 'Why not try and replicate what they're doing?'
Once you cut out the clutter, SEO is relatively simple.
All of these gurus use a similar strategy, and I'm about to show you exactly what that is (with my own little twist).
Much like crossing the road in Vietnam, SEO is organized chaos – the calmer and simpler you make it, the better your results, and the less stress you will feel.
Keep reading if you want to know how all these experts do SEO and how you can replicate the same process.
Disclaimer: This SEO strategy is a long-term play… You won't see results overnight. It is a combination of my observations of experts meshed with my own experience. SEO is not a perfect science, and this is just one way to look at it. Also, I'm no SEO expert – I'm just a blogger who understands how important search traffic is and wanted to give you an easier way to look at things.
My goal is to cut through the clutter and make SEO simpler for you – not add any unneeded complexity (there is enough of that online already).
The SEO Spider's Web
The SEO Spider's Web is the architecture that will guide your content strategy, fill your editorial calendar, and boost your search rankings.
If you're just starting a blog – this process will lay the foundation. Or if you already have a lot of content, this will guide your SEO strategy moving forward and accelerate your way to success.
I chose the metaphor of a spider's web to introduce this concept for a couple of reasons…
At first glance, the web seems pretty simple – much like a search engine.
People search for terms, and results pop up based on those terms.
But when you get a little closer and try to figure out how the spider actually created the web, it's a bit of a mind trick.
"Holy shit, those search results aren't just popping up because of the words I typed in? Mind blown!"
But, after some examination and research into how a spider spins its web, you realize it isn't that complex at all.
All the spider has done is find some anchor points, start linking them together, and periodically spin its web from point to point over a period of time – each new piece of silk making the web stronger and stronger.
Until finally, it stands by itself and holds the weight of the spider.
The spinning of the web is deliberate in its design, simple in its structure, and calmly executed.
Just like the SEO strategy you are about to learn.
The basic idea of this concept starts with content anchors, these are the cornerstones of your strategy.
These anchors are long pieces of highly useful content that dominate a specific topic and are optimized for a broad keyword topic.
Once you have a set of content anchors, you tailor the rest of your content strategy accordingly.
Blog post topics and their associated keywords stem from these anchor topics and link back to them internally.
Your sole purpose for building external links is to boost the rankings of these content anchor pages – Giving some purpose to your outreach efforts.
Over time you build a strategically architectured Spider's Web of internal, and external links that support themselves using these anchor points.
It looks a little something like this.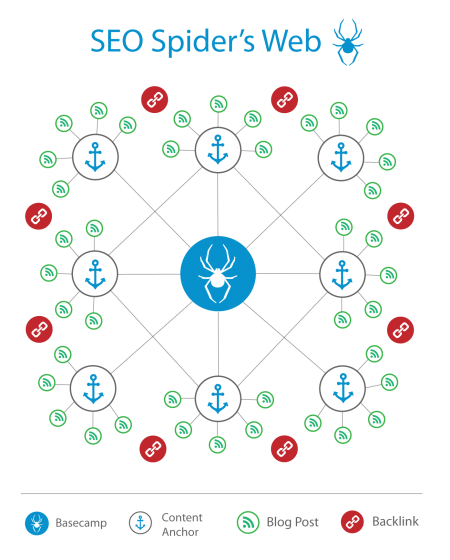 How does this SEO Strategy actually help you rank well in search?
There are lots of factors that the big search engines consider when ranking your content based on keywords. But I personally think it is a waste of time obsessing over all of them.
Instead, you should focus on the real game-changers, with the biggest influence on search ranking.
They are;
Inbound links from authoritative sites
Content and lots of it; packed full of helpful information and a consistent proportion of keywords
User experience on your site; including site architecture, internal linking, and reducing bounce rate
These are my SEO game changers, and the Spider's Web approach covers them all.
Creating Your SEO Spider's Web (Step-by-Step Process)
Step 1 – Pick your anchor keywords
I don't care if you already get tons of traffic, or you have none.
In an ideal world, what are the 3-5 big topics you would love to rank in a Google search for?
Don't be shy, pick ones that are seemingly outrageous – it's good to aim big.
These will become your keyword 'anchors' – the cornerstone of your SEO and content strategy.
From here on in, everything else will revolve around these anchors, so don't take it lightly. Give it some good reflection.
Here are some thought starters that might help you along the way;
What are a list of topics your ideal site visitors are most interested in?
What do you want to be known for as a website or business?
What topics typify your value proposition?
You may like to start by listing out as many topics as you can think of, and then refine this down into the select few you will actually use.
There is no perfect amount, but 3-5 is a good starting point – this may expand over time.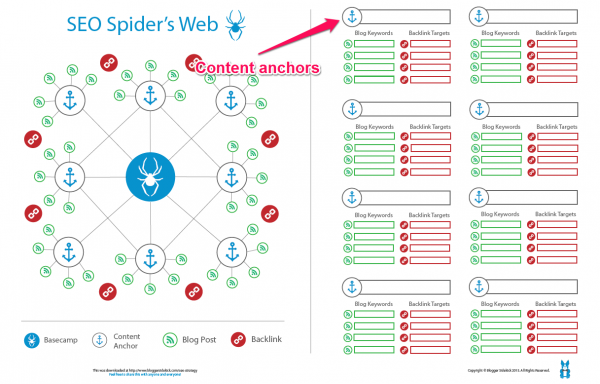 Bonus Tip: Make sure you pick fairly broad terms. Things like 'content marketing' or 'successful business blog' are examples of anchor keywords. We will narrow our scope later in the process.
What not to do: Pick anchor topics that are un-related. If you spread yourself too wide with topics it will confuse your audience and reduce engagement.
Step 2 – Create your anchors
You have picked the keywords that you want to target with this anchor content, now you have to sit down and write it.
Writing this anchor content can be tedious and time-consuming – because it needs to be freaking awesome.
The idea is to create a resource about a specific topic that is bigger and better than anything else out there.
It's like an on-page ebook.
No one else has done anything like it because the task is too huge.
That's why there is an opportunity for you, an opportunity to stand out and be different.
These content anchors will define your brand and differentiate you from everyone else competing for the same keyword slots in search engines.
If you want to know how to dominate a keyword topic and write content like a boss – check out this resource.
For now, let's take a look at some examples of what I'm talking about.
Quick Sprout and Moz
On Neil Patel's blog Quick Sprout he has created a whole bunch of epic resources (he calls them guides) based on the keywords he wants to rank for.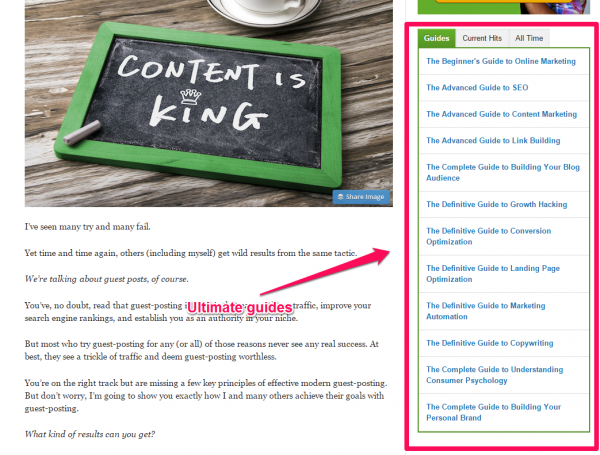 Once you get under the hood here is what they look like (This one is his 'Ultimate Guide to Content Marketing').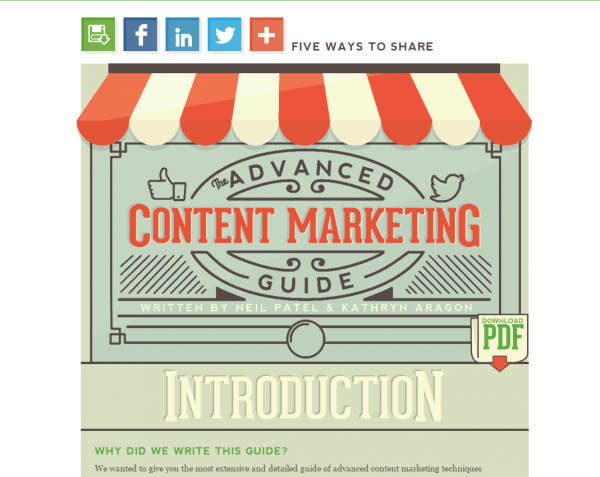 You will see that Neil has gone to great lengths to design something pretty special here.
Some pointers to take from this example;
There is a sweet design edge to the resource
He uses visuals to enhance the text and engage the reader
It's broken into sections and has a logical order for people to follow
The whole resource is spread across multiple pages of the site (Hint: This helps with reducing your bounce rate)
The content itself is extremely helpful, and at a quality unrivaled by Neil's competitors
Moz has taken a similar tact with its 'Beginner's Guide to SEO'.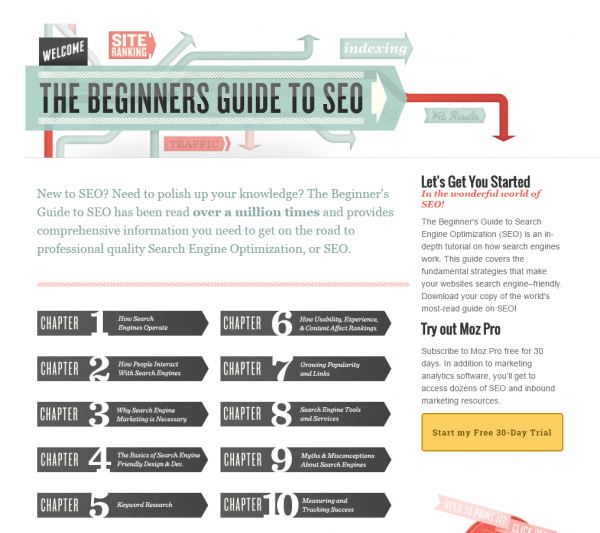 Copyblogger and Content Marketing Institute
Copyblogger has done something slightly different to Moz and Neil Patel, but it is cut from the same brush.
Here is their content anchor for the keyword 'content marketing'.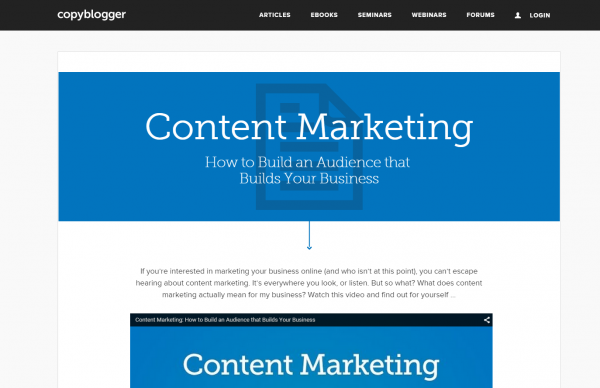 Instead of creating one specific resource about content marketing, they have used this page to collate their best resources on the topic – in a well-designed, organized way.
So what does this mean for you?
I get it, you're not Moz, Copyblogger, or Neil Patel…
They all have some pretty big funding for putting these resources together.
But you can take the basic concept of this and apply it to your blog or website.
For example, I haven't invested money in creating these ebook-style resource pages. Instead, I have written seriously helpful, long-form blog posts as my content anchors.
The post '30 Factors to Launch and Run a Successful Business Blog' is an example where the keyword anchor is 'successful business blog'.
Bonus Tip: These in-depth resources are incredible link bait. The better they are, the more likely you are to get lots of people wanting to link back to them.
What not to do: Don't underestimate the size of this task. If you want to stand out and eventually rank for competitive keywords in search engines, you need to take this seriously. You have to hit these resources out of the park.
Step 3 – Set up a basecamp
You see the big spider in the middle of the web?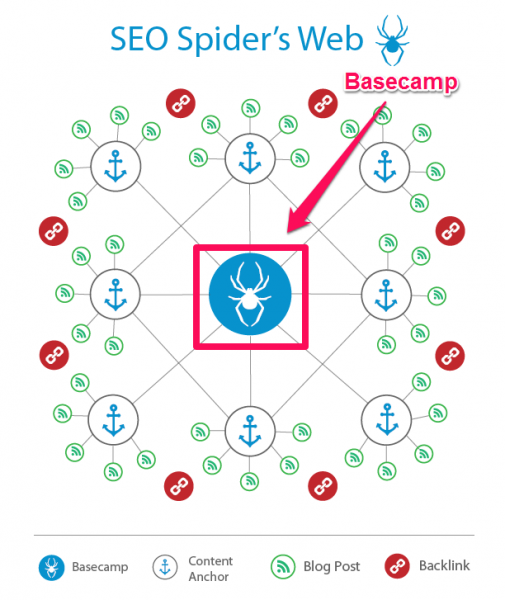 That's your basecamp.
The idea of the basecamp is to help guide new and returning visitors around your website.
It structures the most important information on your site so that visitors can access the real gems, and do it in an organized manner.
Remember I said 'user experience' was an SEO game-changer?
The basecamp concept is a huge one when it comes to user experience because it reduces bounce rate and takes your visitors on a nice little guided tour of your best content.
The most common way to set up a basecamp is with a 'Start Here' page.
This is what mine looks like;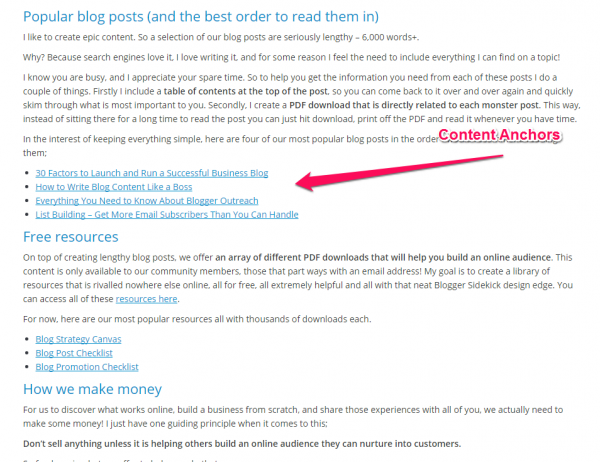 You will see I have links to my anchor blog posts – combined with a welcome message.
Here is a cool example from Bryan Harris over at Videofruit – he went visual with his basecamp. (And a little whacky with his anchors)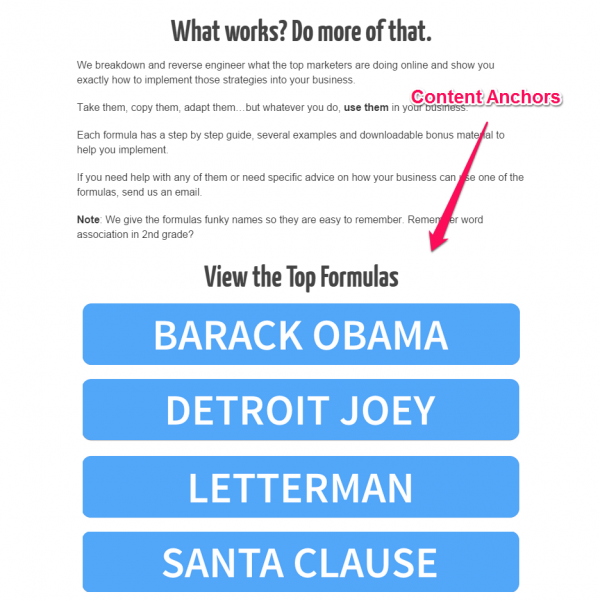 The genius of Bryan's content anchor strategy is that he is essentially carving his own search terms by coming up with 'Formulas'. Because they are unique to him, as they build momentum and get backlinks people will start to search for them independently. Brian Dean does a similar thing with his SEO techniques such as the 'Skyscraper' and 'Moving Man Method' at Backlinko.
For something a little different let's look at Michael Hyatt's basecamp… This is how you would do it if you already have a lot of content, and want to maximize the SEO value of your most popular stuff.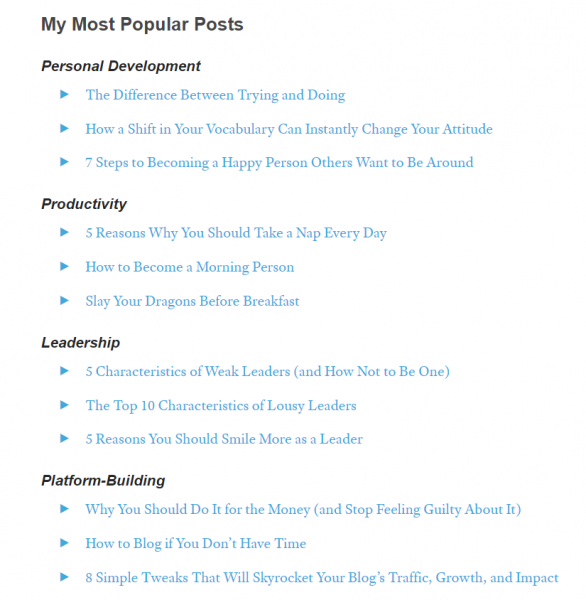 You will notice his anchor keywords are a little longer than the broad topics I have been talking about so far.
He has most likely done this because these posts are already popular on his blog. Therefore instead of starting from scratch, he is maximizing the already strong SEO value of this content.
If you are starting from a strong content base, you may choose to use this strategy.
Note: I am using a mix of longer phrases and broad terms here at Blogger Sidekick. We'll see what works better.
Are you getting the point?
Your basecamp becomes a place you should regularly update once you have new anchor pieces of content.
It is the centerpiece for everything else that goes on around your site.
Without it – everything else would collapse. Much like the center of a spider's web.
Its main purpose is to enhance user experience, reduce bounce rate and guide new visitors to your very best content.
Bonus Tip: Here are some guidelines for a killer basecamp;
It links to your anchor content
It's personalized
It's regularly updated
It's authentic and honest about how you do things
It's helpful and takes your visitors on a journey
What not to do: Don't include links to all of your content on this page. The key is to guide your visitors to the best stuff and over time improve the number of shares and links you get, as well as improve user experience.
Step 4 – Align your content strategy to the anchors
Sweet, so you've set up your content anchors and your basecamp.
Now you have a great starting point to make some noise and get noticed.
Step 4 is all about aligning your content strategy to these anchors.
To do this you need to brainstorm and group a whole bunch of blog post ideas that are associated with those anchor points.
As you come up with the ideas, label them by keyword.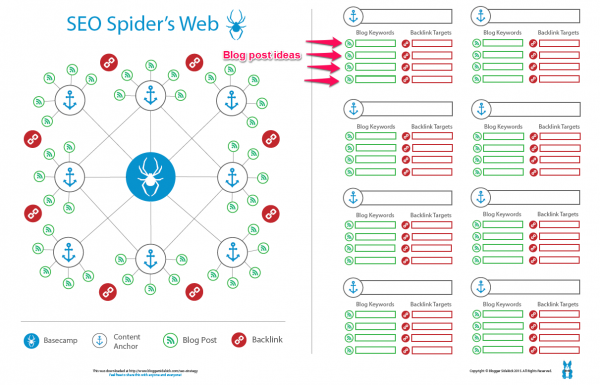 Here are three ways you could come up with blog post ideas so they complement this SEO strategy:
Expand on the primary sections from your anchor resources
Find long-tail keywords based on your anchor topics
Don't spend too long brainstorming blog topics, just focus on the next 3-6 months. Then you can reflect, reiterate and go again!
Bonus Tip: Once you have your blog post ideas listed out on the SEO Strategy Template, transfer them into your editorial calendar and decide who is accountable for writing them.
What not to do: Don't set unrealistic expectations for how often you can create content. Commit to a schedule and stick to it.
Step 5 – Spin your web (internal linking)
The 'silk lines' of the spider's web are your website's hyperlinks.
In this part of the process, you are creating internal links between your blog posts and your content anchors.
This is 'Spinning your web' and it is an ongoing process.
You need to constantly repair broken parts of the web and create new connections to strengthen its stability.
Every time you link a piece of content on your site to something else relevant, it creates a bond and strengthens your site structure for search engines.
In step 5 you are creating blog posts based on the ideas you just came up with and linking them to your content anchors.
Let's see how the experts do it;
Brian Dean from Backlinko
Brian creates long posts based on unique SEO strategies – one example is the 'Skyscraper Technique'.
These are his content anchors.
Then he complements these with case studies of how the strategies work, linking back to the original anchor content (amazing idea).
The genius of this is he has made a name for himself on the back of unique SEO content, and the rest of his content strategy naturally flows from those anchor pieces.
See an example below;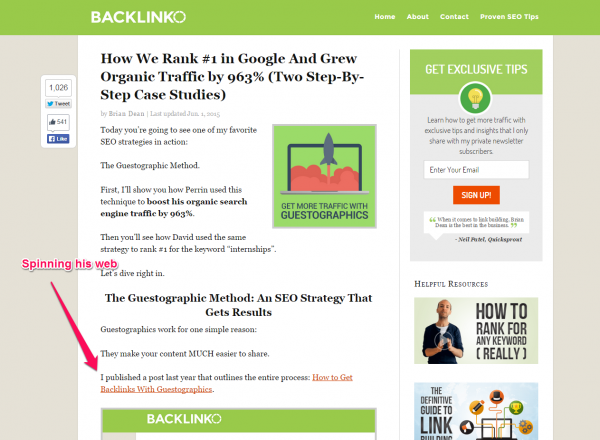 Copyblogger and Neil Patel
Copyblogger does it a little differently. They use what is called 'in text links' to link relevant text out to their anchor content.
See below: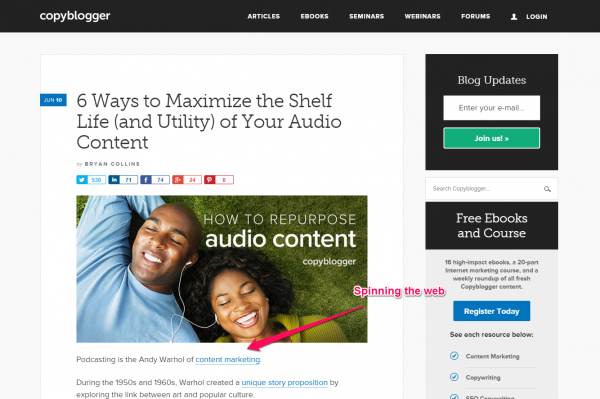 The link above takes you to the 'content marketing' page I mentioned earlier.
Neil does something similar over at Quick Sprout with his ultimate guides.
See an in-text link to his 'Complete Guide to Building Your Personal Brand' below.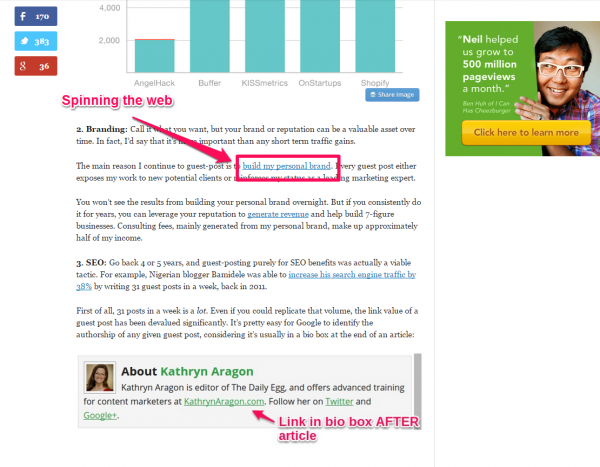 The most important part about these in-text links is picking the right words to link from.
To get more value from the link and send a signal to Google about its relativity to the anchor content, make sure the text is based on a similar topic.
Look to include links to multiple content anchors within each blog post, this helps strengthen your spider's web.
Bonus tip: Over time you will develop new content anchors. Run an audit on all of your old content and add relevant internal links where it makes sense – this will give you a big boost in SEO juice.
What not to do:
Include too many links on one page
Link to the same page too many times on one page
Link to poor quality content or sites with a low domain authority
Step 6 – Strengthen your web (authoritative backlinks)
Steps 5 and 6 are somewhat integrated – you want to be steadily doing both of these over time.
The key to this part of the process is to get backlinks from authoritative sites. (The red spots on the SEO Spider's Web)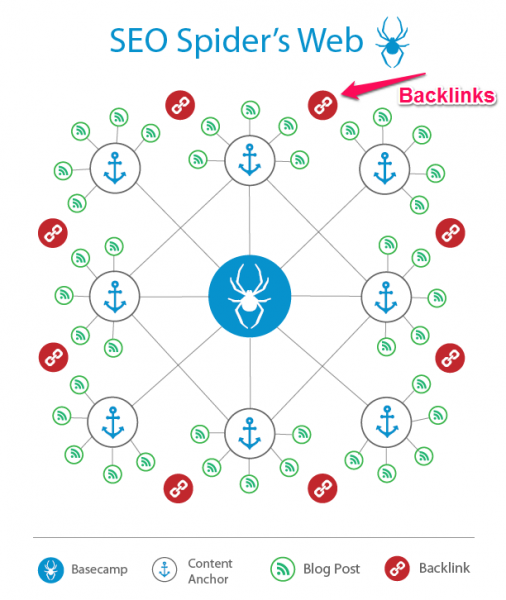 Remember how I said authoritative backlinks were one of the SEO game-changers?
That makes them worth prioritizing.
The good news is, all the hard work has been done.
You have created some first-class content anchors, and now it is time to get them in front of the people that matter.
People will naturally want to link back to well-researched extremely helpful content, but you need to approach them in the right way.
I have found blogger outreach the most effective way of getting people to link back to my anchor content.
For example, Neil Patel shared a link back to one of my blog posts on Quick Sprout recently (he has an epic domain authority of over 70).
But this wasn't by accident.
I have been placing deposits (such as social media shares and links in my blogs) with Neil for quite a while.
He was kind enough to return the favor.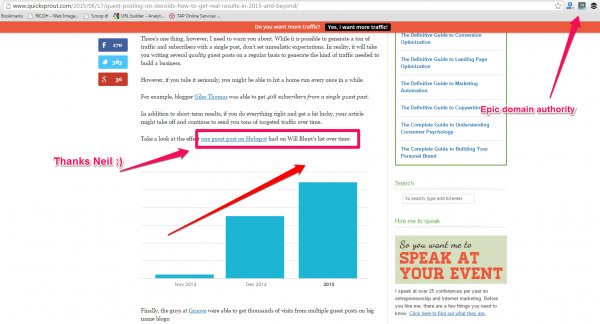 Another blogger by the name of Ariel Rule shared one of my anchor pieces of content on the Elegant Themes blog.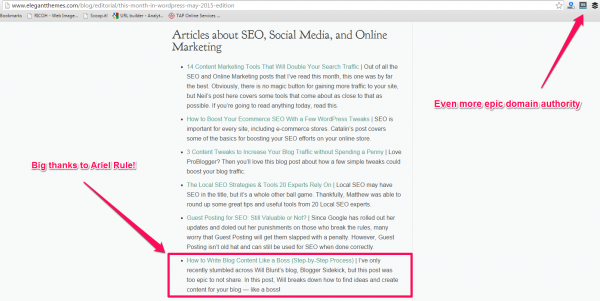 Note: Ariel is a fantastic freelance writer and someone I've enjoyed connecting with, in recent weeks.
My secret?
Nothing special at all.
Just create great content, put yourself out there and be persistent. The results will come.
Bonus Tip: Don't swing in the dark, go after backlinks from sites that have already linked to similar content in the past. Tools such as Moz Open Site Explorer and BuzzSumo will help you find that information.
What not to do: Please don't start spamming everyone asking for backlinks. Be deliberate about who you target. Then, be generous and authentic in the way you approach them.
Conclusion
When I sat down to write this post my goal was to make SEO simpler for you.
It doesn't need to be scary and overwhelming, you just need to strip it back to the basics and focus on the game-changers.
Adopt a long-term mindset when it comes to building a link profile, creating extremely useful content, and optimizing your site's user experience.
If you just focus on these three things, it won't be long until your site is best friends with Google.
Use the architecture of the SEO Spider's Web and start strengthening it over time with blog posts, content anchors, and both internal and external links.
It's simpler than you think.
Right now, I'm floating in between steps 5 and 6… spinning the Blogger Sidekick web and strengthening it every day.
How is your SEO Spider's Web looking?