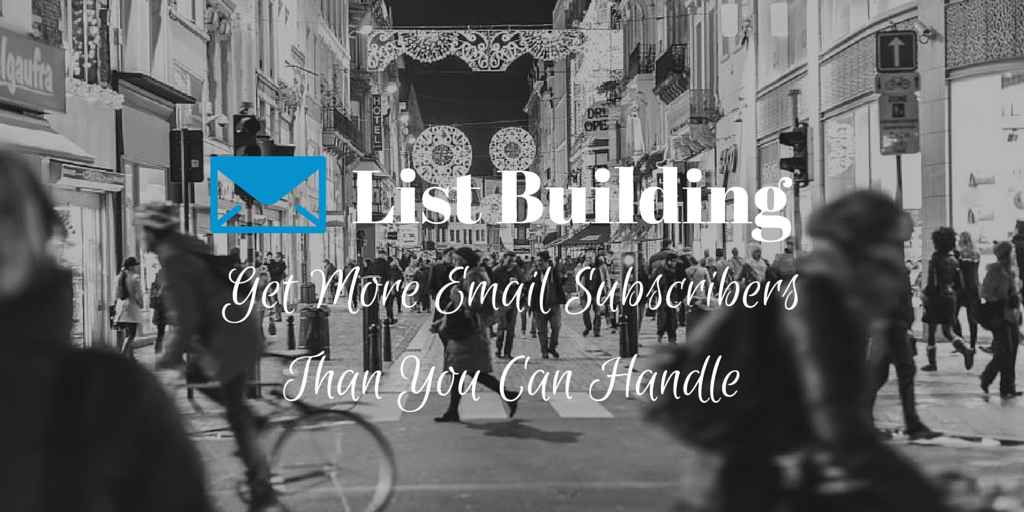 Why should we care about building an email list?
I asked myself this question as I sat down to research for this post.
Of people that use the internet, 85% of them use email as a medium for communication. In contrast, all of the social media networks combined cover only 62% of internet users. So even if you mastered every single social network you wouldn't have the market coverage that email gives you, and that audience would be spread across a number of platforms that you don't own.
Email might not be the sexiest of the online communication platforms. It might not be the newest technology or trend, but it is still the most effective communication method for growing your online business.
Let's look at the online marketing game as a whole.
At a very basic level, your job as an online marketer is to first create a site that is worthwhile visiting. You do this by producing a valuable product or service, quality content and crisp web design.
Your next job is to attract people to your site. What's the point of having a Porsche in the garage that no one sees right?
Once people get to your site, what do you want them to do next?
If you offer a very low-end product or service, maybe you want them to immediately purchase something. But you have to look beyond that.
How are you going to get them to come back and purchase again, and again. OR if you don't have a low-end product or service; are you expecting a brand new visitor to make a big bet without any prior communication just because you whipped up some fancy sales copy?
Selling products and services hasn't changed all that much in centuries, and the internet is just a platform for which you can have these communication exchanges. The key is, and always has been trust.
How do you build enough trust with your customers so they are willing to invest in what you have to offer?
By visitors agreeing to forgo their email address, you accrue a base level of trust. Then it is up to you to build that trust over time so they are willing to invest even more in what you have to offer. Email allows you to extend the conversation beyond a website visit, and capture the hearts and minds of your audience in their inbox.
So let's look at how we can build a list of raving fans that are chomping at the bit to buy something from you. The email list building process I'm about to show you is broken down into 3 phases.
Contents
Have an easy system for creating email opt-in forms
Optimize every page (and post) for email opt-ins
Phase 1 – Optimize your site for email capture
There is no point getting loads of traffic to your site if they have a brief look around, leave your site and you never hear from them again.
That's why the first phase of this list building process is so important. If building an email list is at the core of your online marketing success, you have to optimize your site to capture emails.
Have an easy system for creating email opt-in forms
If you want to grow your email list it is likely you will need to create a bunch of email opt-in forms that you can include on your site.
The idea is that you want people to submit an email address into an opt-in form in exchange for something of value (more about that later). If you don't have opt-in forms on your site, it's extremely difficult to grow your email list.
When I was developing this website, I spent my time analyzing industry leading sites, reading blogs on the topic and documenting all the information I could find. Then I messed around trying to replicate what I was seeing with a combination of WordPress plugins.
I started out trying to configure 'Contact Form 7' and hook it up with MailChimp. This was pretty easy to come to grips with, but I wasn't getting the customization in design I was looking for. So I moved onto the 'Mailchimp for WordPress' plugin, and upgraded to the premium version for about 50 bucks over 12 months. You will see some of my forms on the site today are still using these platforms.
Next up, I discovered SumoMe. SumoMe is a pretty awesome, free plugin for any website. It allows you to create a top bar, slide-in forms, a timed popup and even add a nice looking social sharing feature to your blog.
In short, I was using a combination of 3 or 4 WordPress plugins and cheap software alternatives to achieve everything I wanted to when it came to creating email opt-ins forms.
As it turns out (and I only discovered this recently), I was over-complicating this process. Pretty much everything I was trying to do across 4 or 5 different WordPress plugins I could do with LeadPages.
Disclaimer: When I signed up for LeadPages it allowed me to become an affiliate. What that means is any of the links you click on in this post, or elsewhere on my site, that take you to LeadPages, are attributed to Blogger Sidekick. If you decide to purchase LeadPages after clicking those links, I will get a small commission for referring you. No pressure, I'm just big on transparency so thought I'd let you know! The truth is, I only actively promote products that I use myself, and find extremely helpful. Most of which I don't get any commission for. So whenever I do get a benefit, I'll let you know.
There are four things you will need to be aware of when capturing emails on your site;
1. Landing Pages
A landing page is a standalone web page that is designed to get people to take action.
Usually a landing page will include something of value in return for an email address (More about what that value is later), but the term is also used to describe sales pages.
To help you understand the core components of a high-converting landing page, let's break one down.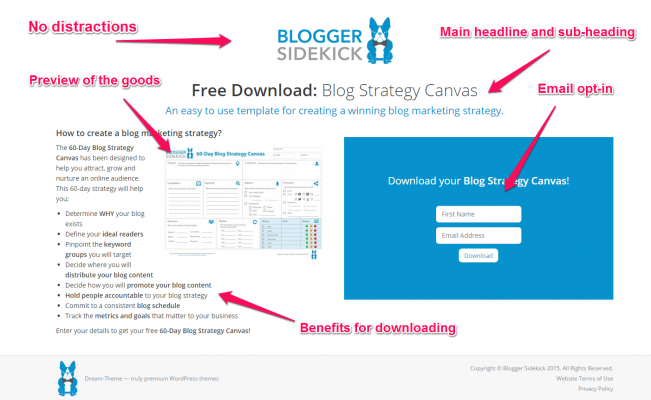 Some key things to take from this page are;
There are no distractions. It is very clear once people come to this landing page exactly what I want them to do. One way to reduce distractions is to remove the main menu items from the top of the page. Luckily my WordPress Theme allows me to create a 'Microsite' to remove these things, but if yours doesn't you may like to enlist the help of a developer OR sign up for a service like LeadPages.
It has a main headline that states exactly what the thing of value is, and then a sub-heading that articulates its overriding benefit.
It offers a preview of the goods. You will see an image of exactly what people are about to download. This increases the chance that they will want to get it even more.
It lists out the key benefits the reader will see from downloading and using the resource. By the time they are reading these points, they are already sold on the value of your resource. At this stage it is just a matter of confirming to themselves that the value is what they had expected.
With LeadPages you can create a landing page in under 5 minutes. They have a library of free templates that you can edit, optimize and launch without ever touching a single line of code.
Alternatively you can create one yourself, like I have. The great thing is once you have created one, you can replicate the formula over and over again.
2. Embedded Email Opt-In Forms
Embedded email opt-in forms are perhaps the most common form of email capture you will see on blogs, and are typically seen in right sidebars, footers and quite often on the home page.
The idea being the more opportunity you give to people to sign up to your list, the more people will actually do it. Below is an example from ChrisDucker.com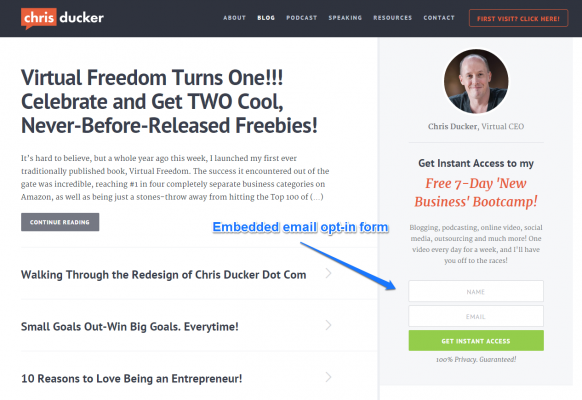 The main benefit of these forms is that people can submit their email addresses straight onto the page without going to a landing page first.
The type of people that will sign up through this method have usually read quite a bit of your content first and decided that staying in touch is worthwhile.
There are a bunch of ways to create these types of forms, most of which include some sort of coding or a WordPress plugin. I use either 'MailChimp for WordPress' or 'Contact Form 7' which both integrate with my email provider.
3. Email Opt-In Boxes
The alternative to embedding forms on your blog is to have email opt-in boxes. These come in a number of different formats so let's have a closer look;
You will see on this site we have a 'Top bar' that you can see running along the browser just below the address bar. For me this has been a pretty low converting email opt-in form, at about 1%. My illusion is that it becomes a part of the furniture and people subconsciously filter it out when they visit the site.
A more pointed assessment of that performance would be the following; I haven't split test the colors, copy or offer so I am not giving myself every chance to capitalize on its full potential. If only 1% of the people coming to your site are signing up for your email list with this method, and it is your ONLY way of capturing email addresses; then you are leaving a lot of opportunity on the table.
If you want to use a top bar, the two easiest ways to create them is with Hello Bar or SumoMe. I use SumoMe because it integrates with a bunch of other tools I use on the site.
Another form of opt-in box is the 'Slide-in'. The idea of this is that when visitors to your site scroll a certain percentage of the way down a page, a box slides in from the bottom right hand corner with a call-to-action.
Below is an example from the Buffer blog (they are actually using this tactic to get customers, not email addresses in this instance)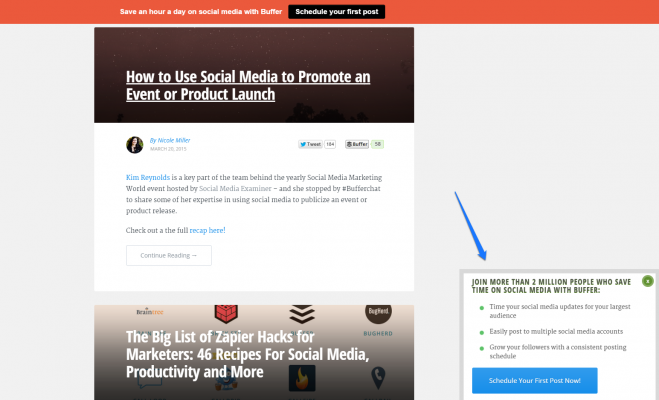 We don't use a slide-in box here at Blogger Sidekick for a couple of reasons. Firstly I didn't want to flood the site with intrusive pop-up boxes that detracted from the main content, and secondly I found it just wasn't converting very well compared to other opt-in alternatives.
But if you want to use a slide-in on your site, SumoMe has a free, easy to setup version as a part of their offering.
This is where the magic starts to happen. Timed pop-up boxes are exactly what they sound like; they pop-up on your screen after a predetermined period of time that a user is visiting your site.
I used to use SumoMe to create these pop-ups, but have since moved everything across to LeadPages – it offers way more flexibility, design edge and analytics. Another popular option is Opt-in Monster, which I hear is pretty nifty but I haven't tried myself.
To show you more about what I'm talking about, below is a screen grab from inside my LeadPages account. The feature I use to create these pop-up boxes is called LeadBoxes.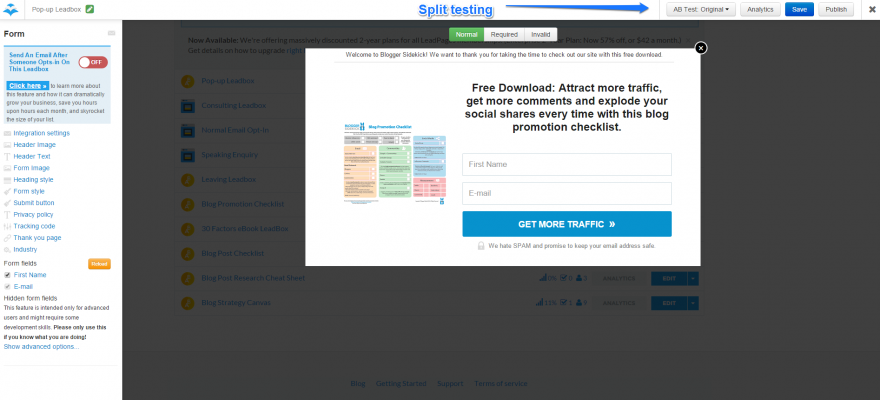 Everything is editable, you can run A/B split tests without any trouble and it looks like a professional designer made them!
In combination with the LeadBoxes WordPress plugin you can choose when the box will pop-up for new visitors; including the time in seconds before it pops up, how many pages a visitor has seen before it pops up, and how long after a visitor has seen the pop-up before it is shown again. These settings are really helpful if you are trying to avoid an intrusive pop-up annoying your site visitors.
When I was using SumoMe the timed pop-up box was converting at about 9%. Since moving to LeadPages this has shifted to over 20%. This is an epic conversion rate that you are missing out on if you don't use timed pop-ups.
Similarly to timed pop-ups, exit pop-ups are a great way of converting visitors into email subscribers.
Opt-in monster, LeadPages and SumoMe all allow you to create an automated pop-up when people decide to leave your site. For example, when their cursor hovers over the 'x' button or within the address bar the pop-up will be activated. Given the nature of this activation, people are about to leave your site anyway, the conversion rate is a lot less exciting than the timed pop-up box.
But it is still a big step up from the low-converting embedded opt-in forms and top bars.
This tactic is something I first experienced whilst reading 'I Will Teach You To Be Rich' – Ramit Sethi's blog. Ramit uses clickable images that actually look like a collection of text and a button, to activate an email capture pop-up. He does this using LeadPages. See below;
And after you click on the image this is the pop-up you see…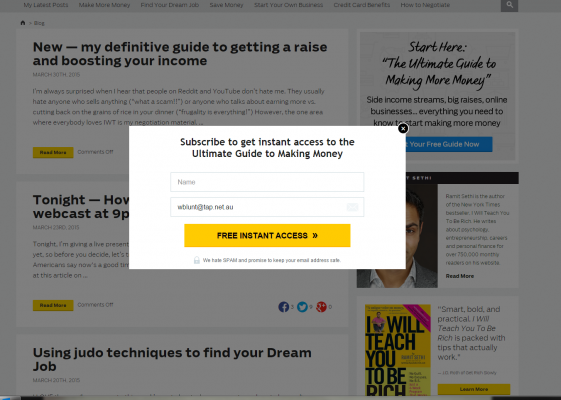 The psychology behind this is an interesting one.
Images enable you to create clean, crisp looking buttons and text that aren't limited by a form generator. This flexibility allows you to develop a more compelling call-to-action for your visitors. The funny thing is, and it goes against conventional thinking, the 'double opt-in' method actually converts higher than simply getting people to enter their email address into an embedded form. (What I mean by 'double opt-in' is when someone needs to first click on a button or link and THEN enter their details)
You can also use the 'double opt-in' method by linking text using the LeadBoxes HTML code (easy to do, but I won't go into detail right now). You'll see me slowly converting all of my email opt-ins and resource downloads to this method. For example, click this link to sign up for our email list.
4. Analytics and Split Testing
Certain copy, buttons and calls-to-action can significantly alter your conversion rates when it comes to e-mail capture forms. The truth is this is usually very contextual, which is why A/B testing is important if you want to increase the amount of people that are signing up for your email list.
If you're not familiar with A/B testing it is literally just as it sounds. You create two versions of a call-to-action such as an email opt-in form; Version A and Version B. Using LeadPages, Opt-in Monster or some other service that allows it you can split test these forms with your audience. For example, the first visitor may see version A, and the next visitor will see version B… and so on. After testing how well each of these forms perform over a period of time, you can make an educated assessment on which one you want to use moving forward.
The key to an effective A/B split test is to make it simple. You want to test only one single element at a time, otherwise the results won't be valid. For example, simply changing the color of a button in an email capture form from blue in version A, to orange in version B would be a simple yet effective way of testing whether the color of a button had an influence on whether or not a visitor chose to complete the form. Other things you may like to test independently are the copy you use in the headline, the image you include, whether or not you include an image at all, or the text on the call-to-action button.
Split testing is pointless unless you have a way to track the performance. This is where analytics is important. Tracking things like conversion rates, unique visitors and click throughs over a period of time will give you insights into how well your opt-in forms are performing and whether or not you need to make changes.
Of course there are plenty of other options when it comes to creating email opt-in forms for your blog, but for me LeadPages has been extremely helpful. Plus it has saved me a bunch of time worrying about learning HTML and trying to integrate a complex system of 4 to 5 WordPress plugins. The key is to have a system that you are comfortable with, and you can repeat over and over again. If you are genuine about building an email list, you will need to create email opt-in forms regularly and you want it to be an uncomplicated task.
Optimize every page (and post) for email opt-ins
Now that you have an easy system for creating email opt-in forms, you need to optimize each page on your site to capture email addresses. The more chance people have to join your list, the more they will – pretty simple. Here are some things you should keep in mind when it comes to optimizing each page of your site for list building;
Above the fold is important. Above the fold is the area on your screen that people can see without needing to scroll down. By including your calls-to-action in this area, you are increasing your chance of converting because it is visible to more people, more regularly.
Make it prominent – Similarly to the idea of featuring your email opt-ins in the top half of the screen, you need to make them prominent all over your site. This is where pop-ups, the top bar, slide-ins and clickable links or images come into play. If I want to sign up for your list, don't make it hard for me to do so, I might give up.
Focus on your home page – Buffer's biggest email converter is their home page, and the best marketers follow suit. For most sites the highest traffic page is their root domain, as in the home page people land on when they type in www.yourdomain.com. Therefore this is an essential place for capturing people's email addresses. See an example of Michael Hyatt's home page below – take note, he has a list of over 150,000 people.
Tailor opt-ins for blog posts – tailored content downloads are one of the best methods for encouraging readers to subscribe to your email list. In short, the more closely aligned a call-to-action is to the content within the blog post, the higher your conversions will be. Brian Dean from Backlinko is especially good at doing this; he offers a free downloadable resource that is specifically related to his posts and offers a link at the beginning and end of the blog. See below;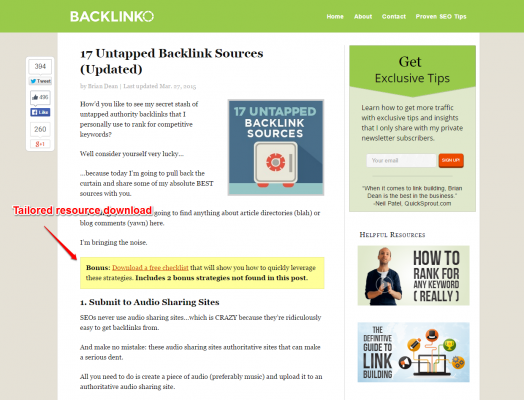 And at the end…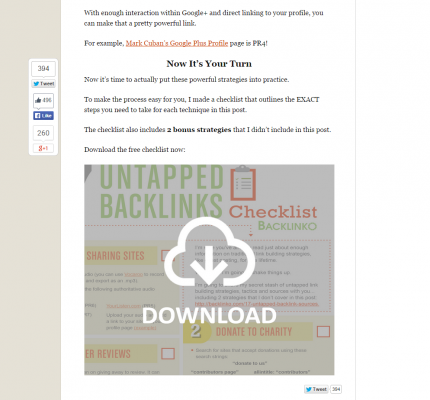 I'll talk more about this tactic later in the post when I discuss 'Creating an offer of value'.
Use social proof – Social proof is a big one. The idea is that people are more likely to sign up for your email list if they feel like others have done it before, or people they respect recommend it. Some examples include using the subscriber count of your list or including a quote or testimonial next to the opt-in form. Adam and Toby from Bluewire Media use social proof on their home page, see below;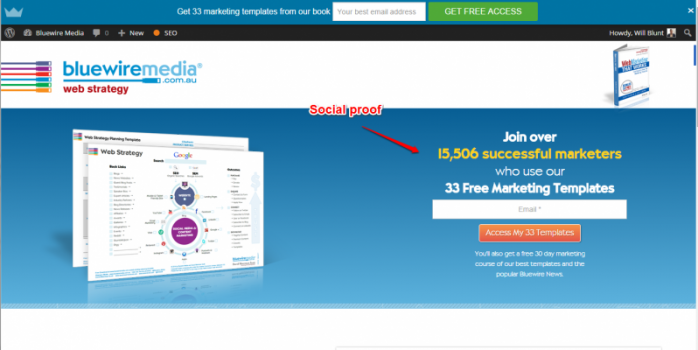 Make your value proposition sing – What's in it for them? The value proposition of your email list should hit visitors' right between the eyes, so they can't miss it. Show them exactly what benefit they will get from signing up; what problem they can overcome. Offering something of value, which we will talk about next is the best way to do this.
During this phase of the email list building process you are optimizing your site for capturing email addresses. This involves developing a replicable process for creating email opt-in forms – including landing pages, embedded forms and opt-in boxes.
Once you have this process refined it is about making these opt-in forms prominent, tested and highly optimized.
Phase 2 – Create an offer of value
Your site is ready to catch the fish, now you need to create the bait.
Creating an offer of value and attaching it to your email opt-in form is the most effective way of growing your list. Essentially, you are giving something away for free in exchange for an email address. These offers are often referred to as lead magnets.
If you are looking at creating free offers to encourage email sign-ups, I would think about it in terms of a sales funnel – assuming your goal is at some stage to get people to buy something from you.
If I were a new visitor to your website, what information would I need to get me up to scratch with everyone else on your list? Probably an educational piece such as a worksheet, eBook or video.
Alternatively, what if I have read your blog for a while but haven't downloaded that first educational piece. Perhaps I am in the 'middle' of the sales funnel now, and my purchasing decision is far more advanced. Then I might be more likely to give up my email address for something like a free trial or consultation with your team.
What can you create that is valuable enough for people to part ways with their email address?
Email auto-responder series
An auto-responder is a predetermined set of emails that get sent to new subscribers of your email list. You might hear this referred to as an 'email course' or 'workflow' in different contexts, but they are essentially the same thing.
The idea of this set of emails is to create an experience for a new subscriber, so they feel welcome, valued and start to trust you. The great thing is you can create a sequence of emails once, and it will get sent to every new subscriber that signs up! You're giving people tons of value but not physically doing anything yourself after a while.
If you choose to create an auto-responder series it should include your best content, in the most impactful order and frequency. The key is to make it all about the reader, not about you. Too many marketers focus on themselves, when at the end of the day it isn't you they care about – it's their own wants and needs that you can help fulfil.
A good auto-responder takes curious new subscribers on a journey from slightly pessimistic and un-trusting, to overtly supportive and desperate to buy. Shine the light on a problem your readers face and methodically solve that problem for them over a series of emails.
If you are a paid MailChimp user you can create automated email series with ease – just remember to make them useful, extremely valuable to the reader and purposeful for what you are trying to achieve. If you're looking for a good example of this, you may like to check out NathanBarry.com and Nathan's free product validation email course.
Free downloadable resource
Downloadable resources are perhaps my favorite list building technique. Things such as eBook's, PDF cheat sheets or checklists, white papers and step-by-step processes are much easier to make than most people imagine. And they act as the perfect bait for those juicy email addresses we are talking about.
If you want a shortcut for creating a free downloadable resource, here's an example of how to do it;
Step 1 – Write an epic blog post
Step 2 – Depending on the type of post you have written, you will want to create a different type of resource. This may be an eBook, checklist, cheat sheet or something else. Decide what makes the most sense in your context.
Step 3 – At this stage I use Adobe illustrator to create the resource, based on a template I created a little while ago. But don't stress if you don't know how to use that. PPT can make stuff look just as nice, and most people know how to use that – just remember to save the end product as a PDF. For example I created this eBookusing PPT in just a couple of hours.
Step 4 – Upload the resource onto your site. If you use WordPress I would recommend the free plugin 'Download Manager'.
Step 5 – Use the tools I discussed earlier in this post to create an email opt-in form, or landing page. Plus, don't forget to create a thank you page which includes a link to the download. Alternatively you can send them the link via email. So if you are not currently making free downloadable resources to grow your email list you are missing out. You already have the content, and the skills to do it… What excuse do you have left?
Content upgrades
Offering a download at the end (or beginning) of a blog post is a common technique for growing your email list.
Most marketers use this tactic to promote one of their already created, generalist resource downloads. But what if instead of offering a general interest download, you offered something that was insanely unique to that actual post?
This is a content upgrade. You are 'upgrading' the content from your blog post into something more tangible that readers can download and take away to implement.
This super-targeted piece of downloadable content is far more compelling for someone that has just read a whole post on the same topic – rather than something they 'may' be interested in.
Gated premium content
This concept offers visitors the opportunity to access premium content, or a personalized software tool in exchange for their email address.
A couple of high profile marketing examples include MarketingProfs and HubSpot. MarketingProfs restrict every day visitors from accessing certain content without first joining their mailing list.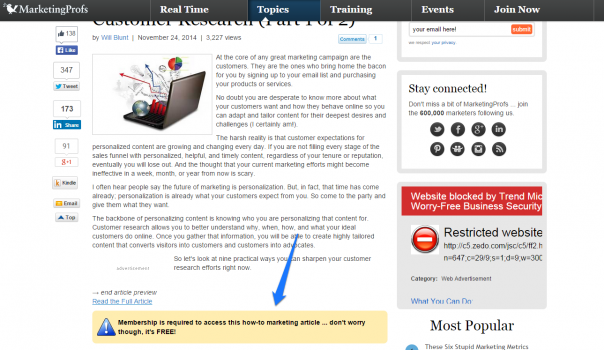 HubSpot have taken this idea ever further. They have created software tools, such as the Online Marketing Grader. This allows users to access personalized data and analysis on their website, in exchange for an email address.
Let visitors preview your goods
If you are going to give visitors a preview of your product or service, don't miss the opportunity to get their email address at the same time. The type of person that is ready and willing to take a product trial, or a discounted offer, is exactly who you want on your list – they are primed to be a future customer. Here are four examples of using this tactic;
Offer a free trial. Offering a free trial of whatever you are selling helps customers make a buying decision. There is less risk for them if they know they can get a look at a product without a financial investment. Therefore if you are confident you have something worth buying, this is a great tactic for luring new customers onto your list and into the sales funnel.
Offer a conditional discount. Have you ever given a discount on something you sell? Or maybe you can provide your audience a discount of someone else's product because you have a relationship with them. If you are going to do this, you may as well get something back – an email address.
Pre-launch a product. If you have a new product idea, a great way to validate that idea before you go ahead and develop it is to get people to join a pre-launch mailing list. They will feel special because they are getting a first look at a new product, probably at a discounted price. This tactic is as simple as putting together a unique sales page, articulating what the new product will be, and asking people if they'd be interested in participating in a pilot launch. Not only will this help you grow your email list but it will validate your new product idea before you invest time and money into creating it.
Give early access to new features. In a similar manner to the pilot project or pre-launch strategy, offering your audience early access to new features of a product or service in exchange for their email address can become very attractive. People want to feel like they are in the inner circle.
In Phase 2 of this list building process you are creating something of value that acts as bait for visitors to give up their email list.
How you position this 'value' and the tactics you use are contextual based on your skill set and audience. But some common tactics include email auto-responders, downloadable resources, content upgrades, gated content and product previews.
Phase 3 – Attract people to that offer
Attracting people to your offer of value is the final piece of the list building puzzle. This is the fun part, once you have your site optimized for email capture and you've created something totally awesome to give away now you can focus your attention on getting people to discover that offer.
Create epic blog posts
Epic content is long, useful and evergreen. It compels a reader to take action on your advice and recommend your site to others. It helps you become close friends with search engines by sending authority signals to their algorithms and ranking your site with the big players.
Over time, epic content is your ticket to consistent traffic. When it comes to building an email list, epic blog posts give you permission to ask your readers to sign up in a variety of ways and take up those offers of value you just created.
This is where you can leverage the 'content upgrade' tactic and turn your blog posts into a downloadable resource. Or you can use the right side bar, bottom of your post and middle of your post to embed calls-to-action.
Social Media Examiner include an offer of value in the middle of all of their posts in the form of a personalized advertising image, usually for one of their events. This is an example of creating something of value to grow your email list and then leveraging your blog content to attract people to that offer.
Guest posting
In terms of immediate results, guest blogging is the most effective list building tactic I know of. It gives you exposure to an already engaged audience in your niche who may never have heard of you otherwise.
Let me show you a personal example to illustrate the power of guest blogging for growing your email list. I wrote a blog for the HubSpot marketing blog about documenting your blog strategy in nine steps. These were the results;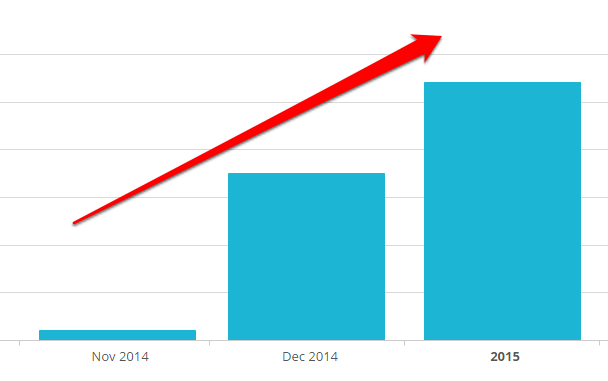 How did I get such good results?
I optimized my website for email capture, then created an offer of value, and attracted people to that offer of value through a guest blog post.
More specifically, I created a downloadable resource called the Blog Strategy Canvas. This resource helps people easily document their blog strategy on one page – something that most people wanted to do, but didn't quite know where to start or how to do it. It was solving a problem both my audience and the HubSpot audience shared.
The next step was to create a landing page on our site to partner this resource.
Having already done the work upfront to make a landing page template and a repeatable process, this wasn't such a hard step. Then I got writing. Using the framework of the Blog Strategy Canvas as a benchmark, I created a clear 9-step process for documenting a blog strategy.
The key here is that the downloadable resource and the blog were in alignment, so readers knew what they were getting when they clicked the link to download the resource. Within the post it is important to include as many calls-to-action as possible – most publications won't allow more than one or two.
These calls-to-actions are simply links back to your landing page that compel the reader to take action. So be very targeted about where you place these. If you can, as near to the top of the article is best. Luckily I was able to do this, see below;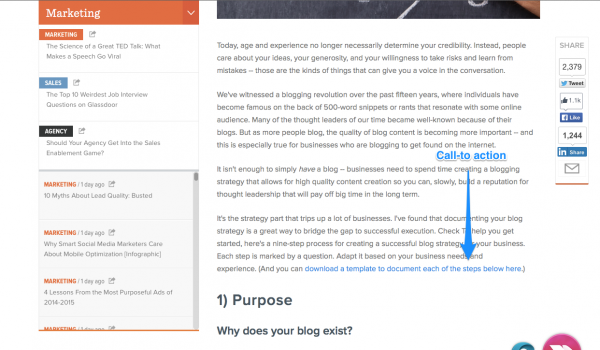 After writing the post I initiated contact with the team at HubSpot thanks to a referral from Adam Franklin – my friend and mentor from Bluewire Media. (Note: I mentioned this to highlight the importance of relationships in the online marketing game, don't undervalue their influence on your success)
After one or two revisions of the first draft, we were up and running. It wasn't long until my MailChimp account was exploding with new email subscribers.
Encourage current subscribers to share
There are a couple of ways you can leverage current subscribers to grow your email list. For example some marketers will include 'Share this with a friend' or 'Forward this email on' at the bottom of their email messages – in my experience these tactics are low converters.
There is no 'big why' for the reader to share your email list with others, just because they are feeling generous. Instead, you need to give them a reason to. You need to help them look good by sharing something you have to offer. This is where the offer of value you have created comes into the psychology of your reader. If you have just given away something of value for free to a visitor, chances are they have people within their network that could also benefit from that offer.
Plus, by sharing a free offer with their network, it makes them look good because they are helping people out as an extension of your generosity. We like to use this tactic on the 'Thank You' page after people have downloaded one of our free resources.
We use clicktotweet and some supporting copy, as you can see below.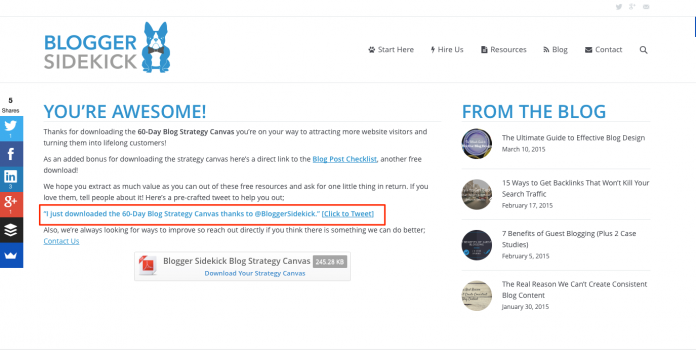 Leverage social media
If social media is integral to your overall content strategy, which it should be, there is a good chance you aren't leveraging it to its full potential for building your email list.
For example, if you were to run an audit on your Twitter, Facebook and LinkedIn connections – how many of them would be on your email list too? My guess is there are a bunch that aren't on both.
Now that you have your site optimized and you have created an offer of value it's time to show all of your social followers the goods and convert them onto your list. Here is a few examples of how you can do that;
Preview your best content on social media. Share a link and preview image to the landing page you have created for each 'offer of value', be that an eBook, cheat sheet or white paper. Posts on social media have more engagement when they include an image.
Target like-minded people on Twitter. For example, if someone has shared an article about 'lawn mowing' and you offer a free resource such as 'the ultimate guide to lawn mowing' – chances are they may be interested in your resource. Find these people using a tool such as BuzzSumo.
Share your email sign-up link on social networks. LeadPages has a function called 'LeadLinks' which you can use on social media, or anywhere else you post a link. It allows users who click this link to visit a landing page or pop-up box without ever visiting your website. This is a great way to attract people to your offer of value without ever getting them to come to your site. (Note: if you don't use LeadPages, most mail services such as MailChimp provide a direct link for people to join your list. This can work in a similar way.)
Use other media; podcasts, videos and webinars
When you are looking for new email subscribers, the idea is to get your content in front of more people, in different places. Creating different types of content such as video, podcasts or webinars helps a different group of people access your content.
YouTube, iTunes, Stitcher and the endless sea of webinar platforms act as search engines in and of themselves. This evens out the playing field and allows you to directly compete for traffic with other people on these platforms, not with the whole internet!
Podcasts have been trending for a little while now, with all the biggest online marketing entrepreneurs and brands using them to grow their presence. People like to consume information passively as they exercise, commute or relax. The good news is you haven't missed this opportunity, most people still aren't creating podcasts because they perceive it as a new skill that is too hard to master.
If you have the persistence to give it a go, there is massive scope to grow your email list and attract a whole new audience to your offer of value with podcasts.
Video is much easier to create, and again is a form of content that people love to consume. Anyone with a smart phone, and 20 minutes free to watch an iMovie tutorial on YouTube can create pretty decent looking video content. You can then embed calls-to-action within the video and in its description on YouTube to attract people to your offer of value.
Webinars offer a personal event experience, but are not limited by geography or time zone. Anyone can attend a webinar, and a lot of marketers are leveraging them to grow their email list. Within Google+ you can host a webinar using 'Hangouts' and actively ask anyone with your circles to attend the event. This combines a different form of media with the goal of converting your social media followers into email subscribers.
Don't forget that with any of these media types, you still need to provide value. That is why you created a free resource, conditional discount or limited access. Lead this new audience back to your website that you have optimized to turn them into community members.
Make the most of offline events
If you attend or speak at any offline events such as conferences you can use them to grow your email list and attract people to your offer of value. For example if you are speaking to an audience on a specific topic, offer them a free resource after the event that reinforces your key messages, and helps them implement the changes you have suggested.
This is valuable to the audience, the event organisers and to you because it will convert them into email subscribers.
Not a speaker, no worries. Ask other attendees open-ended questions and find out what their burning desires or challenges are. Chances are if you are in the same industry, the resources you have created may be of benefit to them.
Listen for genuine interest, don't push unwanted downloads on other attendees. This will allow you to add value to this person after the event, keep the conversation going, build a lasting relationship AND get them to sign up for your email list.
Build relationships
I want to re-iterate how important relationships are in the online marketing game.
If you were to spend all of your time networking and building relationships and nothing else, you would be more successful than most. As you develop these relationships start to think strategically how you can add value to your new friend and their audience.
Perhaps your offer of value will benefit their audience? Or perhaps they have something of value you think your audience would benefit from. Look to collaborate and find a win-win scenario, where you tap into their community and they gain access to yours.
Conclusion
When people come to your site, you want to do everything you can to turn them into email subscribers. This brings them into your online community, your sales funnel and your pool of potential advocates.
Once you have their candid attention through their inbox, you need to capture their hearts and minds by being stupidly generous and useful. Over time your goal is to use this medium to build trust, help more people and grow your business.
In this post I gave you an insight into the email list building process we use here at Blogger Sidekick. It's not unique – but it's effective and not that hard to implement. Just like everything else you do to grow your business online. Nothing is that 'hard' technically, it is hard mentally – it takes persistence and discipline to put into action.
If you want to give this online marketing game a real shot, think about each of the three phases I have put forward today.
Optimize your site for email capture by simplifying the way you create landing pages and email opt-in forms. Then use your intellectual property to create something your community will value, and be prepared to give it away for free. These two steps set you up for success, then it comes down to getting in front of the right people by using compelling content, engaged platforms and diverse media.
What have I missed?